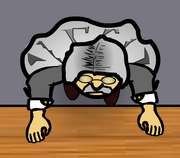 Vernon appears in Telepath RPG Chapters 1 and 2.
Background
Edit
Vernon is a owner of Vernon's Fine Books, the book store at the Psy Academy.
Involvement
Edit
In Telepath RPG 1, Vernon sells you books, which let you attain attacks such as Pyro Blast, Feedback, and Vengeance.
"Hi. Are you here for books? Stupid question--never mind."
A new shopkeeper runs his store in Telepath RPG: Servants of God