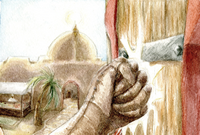 Ravinale is an independent city-state located in the middle of the Ashwan Desert, southwest of both Somnus and the Psy Academy.
Ravinale is an important trade hub, particularly since it controls territory rich in valuable spices.
Ravinale is the battleground to most of the fighting between The Cult and People's Resistance of Ravinale.
Map Of Ravinale
Edit
              Baz's Manor
                   |
              Baz's Estate                  Library
                   |                            |
     Docks - West Ravinale - Marketplace - East Ravinale
       |                         |
Forced Labor Camp           World Map

Ad blocker interference detected!
Wikia is a free-to-use site that makes money from advertising. We have a modified experience for viewers using ad blockers

Wikia is not accessible if you've made further modifications. Remove the custom ad blocker rule(s) and the page will load as expected.