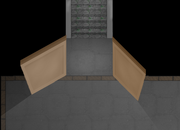 This
Mechanics Headquarters
is an outpost hidden in the
Lowlands
during the
Shadow War
. Responding to a series of
Mechanic
raids on
shadowling
resourcing operations,
General Tastidian
gives a
mission
to his
personal slave
to find the hidden base. After the slave finds the base, Tastidian assigns his slave a
mission
to destroy the base and to steal the Mechanics' plans for a new weapon. While most of the garrison was on a daytime raid, Tastidian's slave destroys the base, steals the plans, and finds a prototype
golem
named
Dorgon
.
Ad blocker interference detected!
Wikia is a free-to-use site that makes money from advertising. We have a modified experience for viewers using ad blockers

Wikia is not accessible if you've made further modifications. Remove the custom ad blocker rule(s) and the page will load as expected.