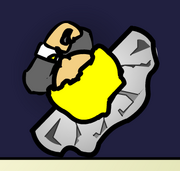 Hans appears in Telepath RPG Chapters 1 and 2.
Background
Edit
Hans is a white cape tutor at the Psy Academy.
Involvement
Edit
In Chapter 1, Hans tutors the Hero in Psy Defense.
Light Bomb (Range 3x3 spaces 4 from epicentre, Damage: 20)
Resistance: Shadow
"Hey there , I'm Hans. Now that classes are out, I'm teachig the intricacies of a robust kinetic and mental defense. If you're interested, I can give you a preliminary evaluation."
"Sorry , I don't offer discounts. Come back when you've got the money to pay, please."
If you side with Tastidian in Chapter 2, Hans will become one of the Psy Fighters that you'll have to fight.